Date of publication: Monday 10th December 2018
Organization: Korea Green Foundation
Title of the news content: Dusted Black Santa did one-man protest at COP24s of the Poland Climate Change Convention
Dusted Black Santa did one-man protest at COP24s of the Poland Climate Change Convention
Special guest who came to urge the seriousness of usage of fossil fuel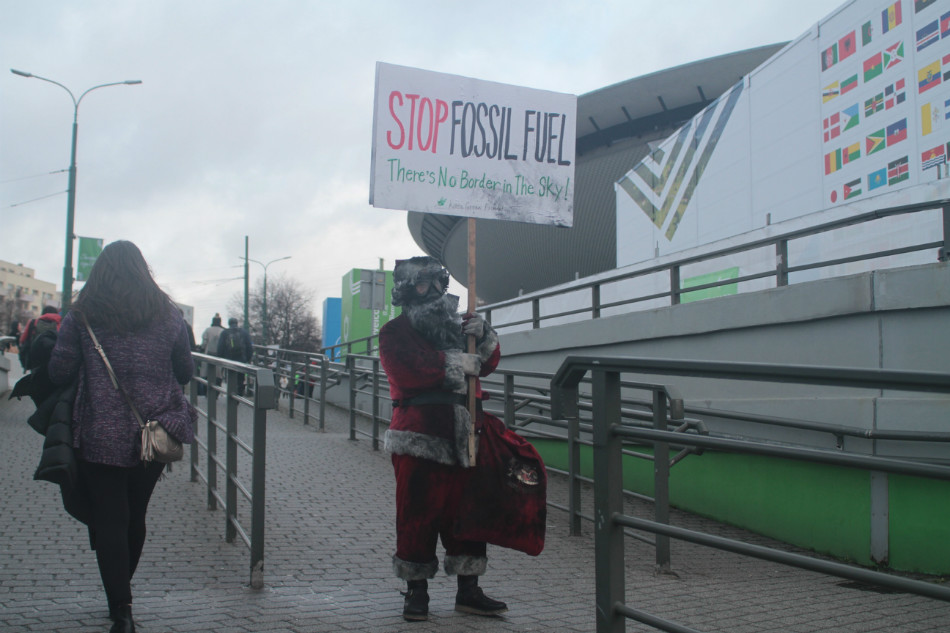 [pic description] At 9 am (local time, GMT+1) on Dec. 10th, at the 24th United Nations Framework Convention on Climate Change, Katowice, Poland, Art Performance type of Protest urging for the end of the fossil fuel era
At 9 am on Dec. 10th, in Katowice, Poland, instead of red clothes and white bearded Santa, Black Santa who was dusted with black smoke and particulate matters visited as a special guest. Black Santa, who appeared with black stains on his face, clothes and whiskers asserted strongly to suspend the use of fossil fuels and increase the portion of sustainable energy. There will be no direct victims of air pollution as Santa, who works primarily in the sky.
The campaign was designed by Korean environmental activists to spread out the seriousness of the air pollution of Asia caused by large factories launched in Asian countries to the international society. According to WHO, nine out of ten people now breathe polluted air, which kills 7 million people every year and 4 million among them are Asians. That is because Asia has become the chimney of the world.
The campaign was also prepared to urge to stop using coal, one of the biggest factors of air pollution. Campaign panels held by Santa have written phrases in English "Prohibited Fossil Fuel Use", and "There's no border in the sky".
Coal is one of the most important factors for making particular matters in East Asia. In fact, five of the ten largest coal-fired power plants in the world are in China. Coal's carbon dioxide (CO2) emissions are two times that of gas, 1.5 times that of petroleum, and particular matters and dust emissions are more than twice as much as other fuels.
As the model for this campaign, the first environmental activist of Korea and the Goldman Prize winner, Choi Yul (69), showed that even at the age of seventy, environment movement cannot stop and it touched the heart of environment activist around world who came to visit COP24. "I got attention." Choi said, "The use of indiscreet coal fuels by many countries including Korea is causing big problems all over the world. There can be no border on environmental issues. I will work together with many countries and many environmental activists to let the international society know about this problem until the clear blue sky comes back. "
In 2009, Korea Green Foundation and an Advertising Designer, Jeseok Yi, was greeted by foreign media in Copenhagen with a strong slogan saying "A sparrow cannot clean up an elephant's dung,", to call on powerful countries to take the lead on environmental issues. Also, at the 21st U.N. General Assembly on Climate Change in 2015 held in Paris, they had an eye-catching campaign called 'There's no border in the sky'.
■ Attachment 1 'A sparrow cannot clean up elephant's dung,' (Big countries must take charge)
Perfomance at the 15th UN Framework Convention on Climate Change(Copenhagen)
[pic description] An environmental poster shown at COP15 in Copenhagen in 2009 depicting the huge elephant dung and a small sparrow trying to get rid of it. They strongly urged on powerful countries to take the lead in solving environmental issues.
■ Attachment 2 'There's no border in the sky.'
Perfomance at the 21th UN Framework Convention on Climate Change(Paris)
[pic description] A work called 'There is no border in the sky', which was presented at COP21 in Paris in 2015. By showing the photographs of the countries around the world in a row it gives the message that the smoke from one country is easily transferred to other countries beyond the picture frame. We cannot solve the environmental problems by prioritizing national interest but with cooperaiton and unity.
■ Attachment 3 Korea Green Foundation
Since its foundation in 2002, KGF is trying to raise people's awareness on the environmental issue by cultural and educational means. It has been meeting and supporting environmental activists home and abroad and running diverse programs in order to make people to act in their daily lives. ( https://greenfund.org // greenfund@greenfund.org )
<The end>
Contact: Ms. Hyunyoung JEE (+82 10 6352 1003, jeehyunyoung@greenfund.org)