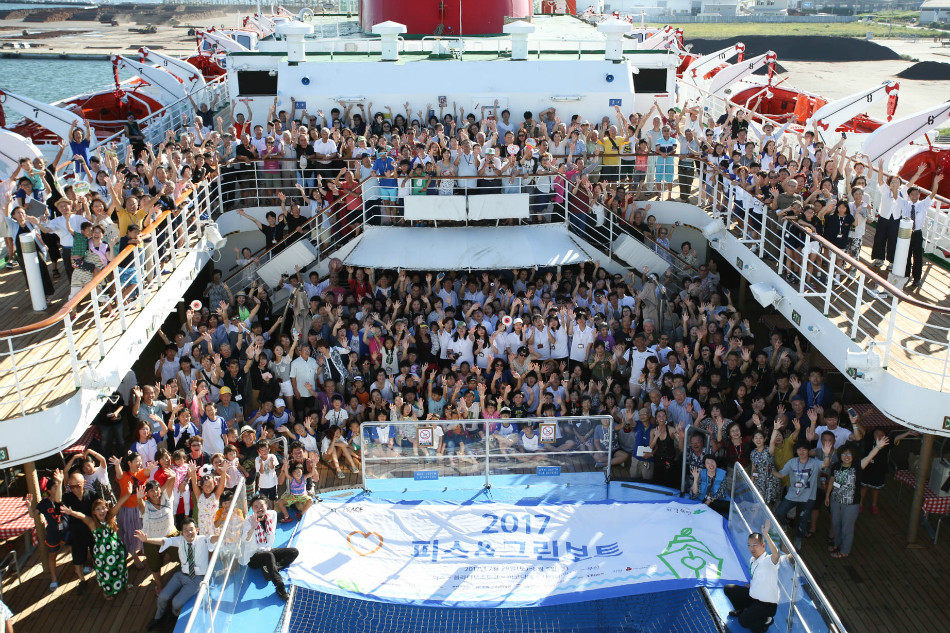 '2017 Peace & Green Boat', which has been held 10

th

time from the first start, has successfully finished the sailing on August 5. This sailing trip had been done from July 29 to August 5, for seven nights and eight days. Peace & Green Boat, co-held by Korea Green Foundation and Japanese Peace Boat, is a cruse-trip international exchange program. This year's theme of the sailing is "Voyage for Ony One Earth, Only One Me." It is held to search the social, cultural, and environmental problems in Northeast Asia and to find out the alternatives. There were 1,100 peoples

–

550 each from Korea and Japan - including children, youth, university students, artists, and opinion leaders from Korea and Japan, joined this sailing. They were on a 35,000tons cruse, called OceanDream, and started the sailing from Yeo-su, and visited Vladivostok, Hakodate, and Sakaiminato. Busan was their last place to visit in this sailing. Yul Choi, a president of Korea Green Foundation, and Dasuya Yoshioka, a co-president of Japanese Peaceboat, who are both co-presidents of Peace & Green Boat, presented a joint statement to celebrate 10

th

selling. They promised to work for the sustainable peace and environment communities in East Asia.